A couple of days ago my daughter's class were given the opportunity to jump and play in a pile of leaves that the groundsmen at their school had raked up for them. How truly blessed they are!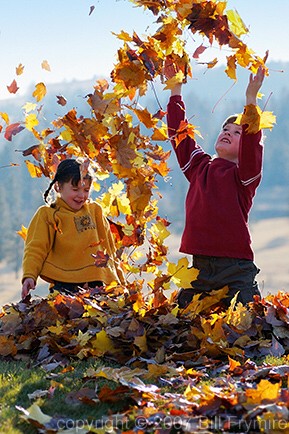 I love the sounds of autumn leaves; the crunch under foot, the crinkly, swishy sound they make when you walk through them. I love the vibrant colours, and throwing them up in the air and watching them rain down again. I love watching the sun filter through the trees, and on a windy day, seeing the shower of leaves as they are released from the branches above. The epitomy is to catch one that has been newly released from the tree, before it has floated to the ground.
Now I also want to tell you that our girls got thoroughly filthy in the process of this leaf larricking. And so I started to wonder; how many of us miss the joy of life, for fear of experiencing a little dirt? A couple of the girls were concerned about getting their clothes dirty and so played on the edges of the pile. Their experience was more of an observatory nature. Some of the girls waited for another girl to go first, to lead the way, and then followed their example; figuring that if it was OK for her, then it must be OK for me.
And then there were the girls who were in the thick of it. These were the girls who came out with dirt in their hair and leaves in their pockets. Twigs stuck to their socks, and a soaring smile on their face. Their laughter was contagious and their joy evident in the sparkle in their eyes. In this experience, they held nothing back, and soaked up every bit of joy available.
Watching them, I felt inspired!
Of course every person is perfect as they already are, and the way they express themselves differently is what makes life interesting. But in this example, I resolved that I wanted to be one of the dirty kids, one who is willing to put up with a bit of dirt or discomfort to enjoy the full experience. I know that the dirt can be washed off, the discomfort will fade, and the memories of moments such as these will be cherished forever.
So which part of the pile do you choose to play in???